Implementing a commodity trading and risk management (CTRM) software system into your company's workflow can be daunting – especially if everyone at your company has grown accustomed to using legacy systems. But making use of powerful CTRM software is essential if you wish to streamline your operations.
CTRM software can help you manage your commodity trading activities like purchase and sale contracts, financials, and logistics. However, to ensure that you successfully put in place a CTRM into your workflow, you'll need to plan and execute the implementation process successfully.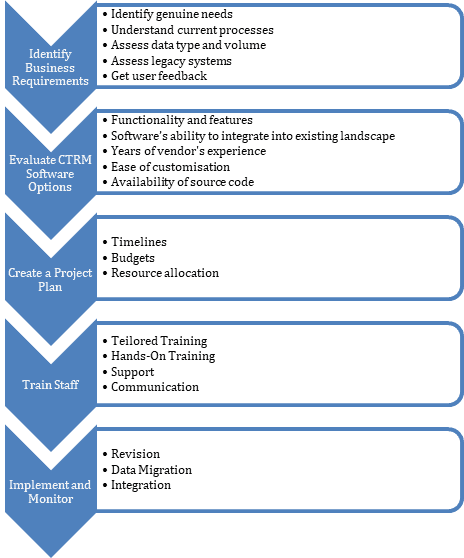 In the following lines, we're going to discuss the critical steps and best practises you should follow if you want to successfully implement CTRM software into your company's existing processes and systems.
Identify Business Requirements
The first step you should take on your journey to implementing CTRM software is to identify the genuine needs of your business. So, you'll need to take time to understand the current processes and systems your company has in place, identify areas for improvement, and determine what features in a CTRM your company could benefit from.
When taking note of what your company is looking for in CTRM software, you're going to want to involve all the key stakeholders within your company to ensure you don't forget or overlook any aspect of your business.
To help you get started, we've listed down a few things to keep in mind when identifying what features your company needs in a CTRM. These include:
Current Processes. You'll need to understand what the current processes in place are within your business. Try to notice any bottlenecks or inefficiencies in your company's current system.
Data Management. Find out the type and volume of data that your company handles. Be sure to assess your current software's ability to manage and store the data.
Take a look at the legacy system or software your company is currently using. Assess whether it integrates well with your company's existing systems.
User Experience. Ask around and find out whether the people in your company are having an easy or difficult time using your current system. Ask them how they would like the user experience of your future CTRM to be.
Once you have identified the requirements of your business, be sure to document these in a clear and structured way, maintaining the same structure across all desks. Your notes will serve as a guide for evaluating different CTRM options later on. Make sure your document is easily scalable, as you might want to add additional information later on.
Sometimes the identification of business requirements is outsourced to a consulting company. If you decide to go down that road, make sure the consulting company understands your business workflows clearly and works in your interest. Do not let them bloat your requirements lists needlessly, but rather differentiate between "must-have" and "nice-to-have" requirements.
Evaluate CTRM Software Options
The next step is for you to check for different CTRM software options. This process involves looking at different vendors, comparing functionality and features, as well as assessing the software's ability to integrate with your company's existing processes and systems. Sometimes smaller vendors might offer a better choice than the big players. Other important factors you may want to consider are the vendor's number of years of experience in developing and implementing CTRM systems, scalability of the product, ease of customising the product, and possibility of obtaining the source code. Also, consider the jurisdiction that your company and your CTRM vendors operate in. Stay in control of your data and avoid a vendor lock-in.
It's vital to take a comprehensive approach when looking at your CTRM software options. So, you'll want to refer to the notes you took when identifying your company's needs and requirements.
Create a Project Plan
Once you've chosen which CTRM software your company will be using, you'll need to create a detailed project plan. This plan will outline timelines, budgets, resource allocation, and other details to ensure that the transition to this new piece of software goes smoothly.
You should also include in your project plan a testing phase to ensure that the CTRM is working as expected before you roll it out to your entire company.
Train Staff
Training staff to ensure they can properly use the new CTRM is absolutely critical for the success of the implementation and transition. You'll want to be comprehensive when it comes to your training approach. So, you may consider having both theoretical lessons and hands-on training sessions. One common mistake buyers often make is to save on the training costs. This will undoubtedly result in lower user acceptance of the new system and additional costs at a later stage due to improper use of the system.
When training staff, you should consider the following:
Tailored Training. The people within your company have different roles and responsibilities. So, it's likely that they will be using different aspects and features of your new CTRM software. You will want to ensure that the training you provide is relevant for each person.
Hands-on Training. You will want to provide hands-on training sessions to help staff practice using the new software.
Support. You'll want to provide ongoing training and support to ensure that all team members remain proficient in using the software. Your chosen CTRM may receive updates over time, so you are going to want to make sure that members of your company can fully benefit from software updates.
Communication. Your company's employees may feel confused and frustrated as you transition to your new CTRM software. This is why you should keep them informed about their training schedule and the progress of the transition. Be sure to ask for feedback and suggestions from staff. Remember that low user acceptance will result in a failure of the project.
Implement and Monitor
Now that you've tested the software and trained your staff, it's time to implement the CTRM software into your company's existing processes and systems.
It's essential to keep a close eye on the CTRM's performance and make adjustments as needed. Schedule regular reviews and check-ins to ensure that the software is working as expected and is meeting your company's requirements.
Consider the following when implementing and monitoring your new CTRM:
Data Migration. Make sure that data is migrated from your legacy system to your new CTRM correctly and efficiently. You may consider performing data validation and testing to ensure that the data is complete and accurate. To learn more about data migration, you might also want to refer to www.pnlexplained.com
Integration. Take the time to integrate the CTRM with your company's other systems and processes. This will ensure your CTRM is working as it should with other systems and that data is being shared correctly.
Implementing and monitoring your new CTRM software is a lengthy process that requires close collaboration with the software provider. So, it would be best if you chose a provider that will work closely with you to ensure a smooth transition and access to ongoing support. To learn more about strategies for switching CTRM Systems, you may also refer to pnlexplained.com
Final Thoughts
As you may have realised, implementing a CTRM into your company's existing processes and systems can be a complex and time-consuming project. However, by following the steps we've taken you through in this post, you can ensure a successful implementation. Feel free to contact us for further advice on CTRM best practises.
About ComFin Software
Since 1997, ComFin Software has been trusted as a global leader for affordable, comprehensive, and agile financial risk management software solutions – categorised as CTRM (Commodity Trading and Risk Management). ComFin Software has helped companies across the globe to minimise their exposure to volatile markets by arming them with the knowledge, resources, and administrative processes they need to perform commodity trading successfully.
With the CTRM solution Comcore™ you will have the perfect tools to maximise your profits by minimising your financial risks.
Tired of dealing with paperwork, or maintaining, updating, and reviewing multiple spreadsheets? The Comcore™ system helps you streamline everything from trading futures and options to their underlying commodities (paper and physical markets).
The complete Comcore™ software is available in 108 languages.
Furthermore, ComFin Software is recognised for its ability to provide consulting services in all aspects of commodities trading.
To see for yourself the benefits of Comcore CTRM software, don't hesitate to book a demo today. We'd be more than happy to walk you through the software and address any questions or concerns you may have.